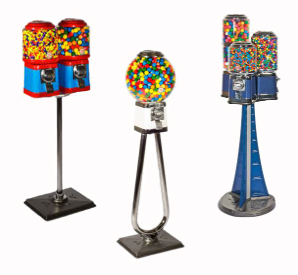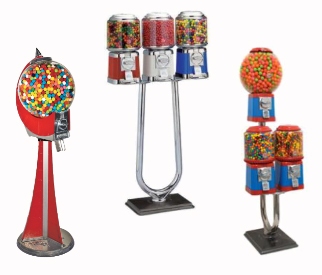 If you have an existing business in Berkshire County and would like to learn how you can increase your revenue without any monetary investment, then we have an excellent opportunity for you. Allow us a small area to place our candy and gumball vending machines, and the rest is handled by us. We maintain, refill, repair if necessary, the machines and the best part is when we are there refilling the machines, we will pay you your percentage ON THE SPOT. No waiting for money, vouchers to fill out, or toll free numbers to call, we pay you ON THE SPOT!
From A Single Ball Globe Gumball Machine To A Single Tower, Double Tower and Yes…Even A TRIPLE DECKER Tower Never Fail To Attract Attention
Examples of great locations for our vending machines are: restaurants, ski areas, bowling alleys, timeshare locations, skating rinks, shopping malls, Boys and Girls Clubs, laundromats, movie theaters, academic institutions (high schools, colleges), supermarkets, coffee shops, banks, car dealers, taverns and apartment complexes just to mention a few great locations.